News
Gasoline Hose Most Frequently Asked Questions
Views: 723 Update date: May 19,2022
A gasoline hose is a reinforced rubber hose in a vehicle that carries the fuel from a fuel tank to a different part of the vehicle, usually the fuel pump. Gasoline hoses come in many different sizes and are used in a variety of different vehicles, from lawn mowers to farm tractors to cars and trucks. There are a few different things to consider when selecting a gasoline hose. Virtually everything you need to know will be stamped on the hose itself. However, the first thing you should always do before buying parts is look at your vehicle's owner's manual.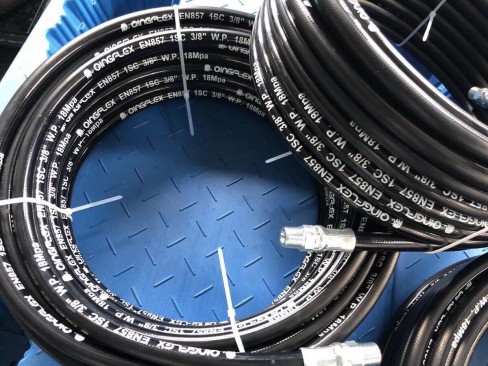 What Type of Fuel Will You Be Using?
Not all gasoline hoses can handle every kind of fuel that's out there today. Make sure that the gasoline hose you're buying is suitable for the type or types of fuel you're planning to run through it. If you're using diesel, use a fuel line marked "diesel". If you're using a high-ethanol fuel, make sure the hose can handle alcohol blended fuels.
Is The Engine Fuel Injected?
When you're looking for a fuel line hose, what you're planning to use it in makes all the difference. A lawn mower fuel line hose and a fuel injection hose may look the same, but they are worlds apart. A fuel injected engine runs at a much higher fuel pressure than a carbureted one does. So, if your vehicle is fuel injected, you need fuel injection hose.
If you have a vehicle manufactured before 1984, a small engine like a lawn tractor or generator, or any other kind of engine with a carburetor, you can use standard gasoline hose.
Will The Gasoline Hose Be Submerged?
Will the hose be connected to a fuel pump that's inside the gas tank? If so, you'll need a submersible hose. If you install a standard fuel line hose on a submersed fuel pump, the fuel will eventually start to break it down. This will cause bits and pieces of the hose to come off and float in your fuel. These bits can be sucked into your fuel pump and clog it. Submersible in-tank fuel line is designed to resist breaking down if it's submersed in fuel.
What Are The Regulations Governing Gasoline Hose In Your Area?
There are strict government gasoline hose emissions regulations that you must follow when you replace fuel line hose. It's always safest to go by the strictest regulations so your vehicle or boat will be legal wherever you use it.
The state of California has some of the strictest emissions regulations in the country.gasoline hose that meets their requirements is marked with the letters "CARB" (California Air Resources Board). Use a CARB-certified gasoline hose whenever possible as it resists seepage better than a non-CARB approved hose. This means that you will have better fuel economy with a CARB hose.
Are You Using The Hose for PCV, EEC, or Vacuum Lines?
If so, you'll want to use vacuum tubing instead of a gasoline hose. Vacuum tubing is specially designed to stay flexible even at low temperatures and is ideal for replacing tubing on windshield washers.
Are You Using The Gasoline Hose for a Marine Application?
The United States Coast Guard has requirements for gasoline hose to be fire resistant. Hose that meets these requirements will have the letters "USCG" stamped on it. Try to use USCG-marked hose for any marine application. This type of hose is usually labeled"marine gasoline hose" on its packaging.